The Yas Viceroy is an architectural marvel, a one of a kind 5-star hotel, built half on land and half on water with an F1 race track adjoining it. Its glass ceiling lights up wonderfully into different colours throughout the night and is visible even from afar.
But the most thrilling part about the property is the Formula 1 circuit that runs around it. You can enjoy a brunch while listening to the sweet whirring of the cars racing on the track. As you enter the lobby, the warmth surprises you – the cosy armchairs and the books with more armchairs to sit and read in. A door right beside the reading room takes you to their lovely deck.
For people who love water, their poolside with access to the bar will be of interest. After exploring the property, you can proceed to the rooms. On your way to the room, you will notice that in keeping with the theme, the walls are designed in a white interwoven pattern, just like the glass roof.
Each room is elegantly spread and spacious. The property has 499 rooms and suites with over 1600 square metres of conference space and is one of Emirate's largest hotels. As you enter the room, you'll see two freshly made beds, with a living area space to lounge in. Across the living space, the balcony opens to the view of the race track from where you can view the cars racing on the track.
Apart from its modern architectural beauty, the Yas Viceroy has a lot to offer within the premises too. Following is a list of places you can explore to thoroughly enjoy the property during your stay:
Latitude and Longitude Pool Lounges
Latitude and Longitude are located on the rooftop of the hotel adjacent to their stunning infinity pool. As the sun sets, this alluring roof deck transforms into a stylish lounge bar, with outdoor seating, chilled beats, premium specialty cocktails, and delicious snacks – all with stunning views of the Yas Marina.
Latitude:
Opening hours: 8:00 am to 9:00 pm
Food: 12:00 pm to 9:00 pm
Longitude: (adults only)
Opening hours: 6:00 am to 9:00 pm
Food: 12:00 pm to 7:00 pm
Origins – International Cuisine
Origins offers an outstanding international buffet as well as a delicious selection of local and regional specialty dishes. Dine indoors and soak up the vibrant surroundings at the heart of Yas Viceroy Abu Dhabi or outdoors on the spacious terrace overlooking the Yas Marina Circuit.
Open Daily
Breakfast 6:30-10:30 am
Lunch 12.30pm – 3.00pm
Dinner 7:00 -11:00 pm
Amici – Italian Cuisine
A beautiful destination that gracefully represents genuine Italian gastronomy, Amici offers a casual ambience to dine in with family and friends over Italian classics. Each signature offering is prepared with ingredients sourced from artisanal merchants hailing from different parts of Italy. Dine indoors or outside amidst tranquil surroundings on the terrace.
Open Daily
Lunch 12:30 – 3:00 pm
Dinner 7:00 – 11:00 pm
Kazu – Japanese Cuisine
Kazu presents the true taste of Japan. Discover tasty delights created by their Teppan chefs, savour culinary masterpieces by the sushi chefs and enjoy a mouth-watering selection from the robatayaki grill. With a dedicated sushi and sashimi bar, a tempura station as well as sake experts to recommend the perfect accompaniment to your meal, Kazu provides the perfect authentic Japanese dining experience.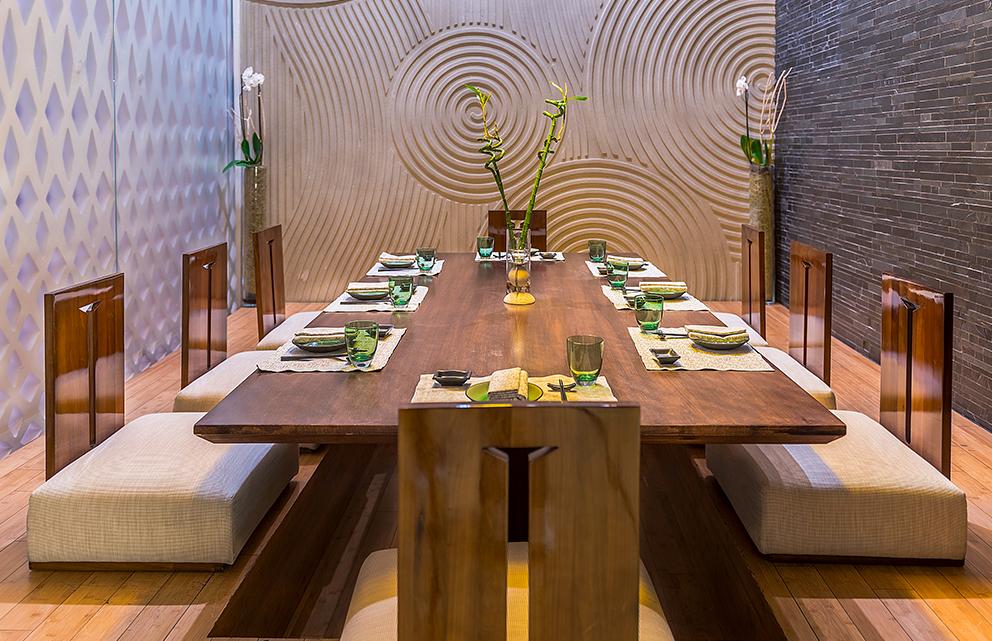 Monday – Friday:
7:00 pm – 11:00 pm
Saturday:
12:30 pm – 4:00 pm & 7:00 pm – 11:00 pm
Sunday: Closed
Atayeb – Arabic-Mediterranean Restaurant
A delectable fusion of flavours from regions bordering the Mediterranean and Arabian Gulf, Atayeb takes Moroccan, Tunisian, Lebanese and Syrian old-world tastes and gives them a modern flair producing delicious hot and cold mezzeh, stews, tajines and couscous dishes.
Open Sunday to Friday
Dinner 7:00 pm -1:00 am
Angar – Indian Cuisine
Angar brings a taste of authentic India to Abu Dhabi, taking traditional Indian flavours and spices and giving them a deliciously modern twist. Specialities include marinated meats and seafood rich in flavour, served directly from the tandoor with the freshest naan and roti.
Open Daily
Dinner 7:00 pm to 11:00 pm
Fridays 2:00 pm to 11:00 pm
The Yas Lounge – A Sweet Taste Of Luxury
Yas Lounge offers a mouth-watering selection of beautifully designed cakes, chocolates, fresh scones, flaky pastries, muffins and croissants. Famous for its decadent, rich dark chocolate Yas Cake and cheesecakes served with a wide range of tea, coffee or cold refreshments, the Yas Lounge creates a tranquil ambience with contemporary artwork and soft music.
Location: Hotel lobby, main building
Opening Hours:
Daily 7:00 a.m to 11:00 p.m
Skylite Rooftop Lounge
Abu Dhabi's most stylish, urban roof deck brings you non-stop nightlife with Yas Viceroy's resident DJ playing commercial house music to set the rhythm of your night. Uber-chic, Skylite is the perfect place for indulging in after-work cocktails, time with friends or a romantic date with a loved one. Enjoy endless nights under Yas Viceroy Abu Dhabi's sensational light-filled canopy.
Location: Rooftop (9th floor), main building
Hours:
Sunday – Thursday 6:00 pm to 1:00 am
Friday 4:00 pm to 1:00 am
Daily Happy Hour: 6:00 pm – 8:00 pm
EMPIRE At Rush Nightclub
EMPIRE at Rush Nightclub is the only nightclub in the world that is built over a F1 racetrack. Hosting weekly events with the biggest names in nightlife from clubbing brands to DJs, EMPIRE at Rush is the place to be in Abu Dhabi. Join us in this exciting after-dark playground and dance the night away.
Located: Bridge Gallery at Yas Viceroy Abu Dhabi
Opening Hours:
Monday, Tuesday and Thursday: 11:00 p.m. to 03:30 a.m.
Friday: 10:00 p.m. to 03:30 a.m.
Dress code: Smart casual, Strictly no hats & sportswear
Age: 21+ (Valid UAE ID or Original Passport Required) Couples & mixed group only
Yas Beach
Unwind and relax on the beautiful Yas Beach which offers a fully licensed bar and light food options for guests. The adventurous can book eco-tours of the mangroves, while stand-up paddleboards and kayaks are also available for rental. Yas Viceroy guests can avail complimentary transfers and access to Yas Beach.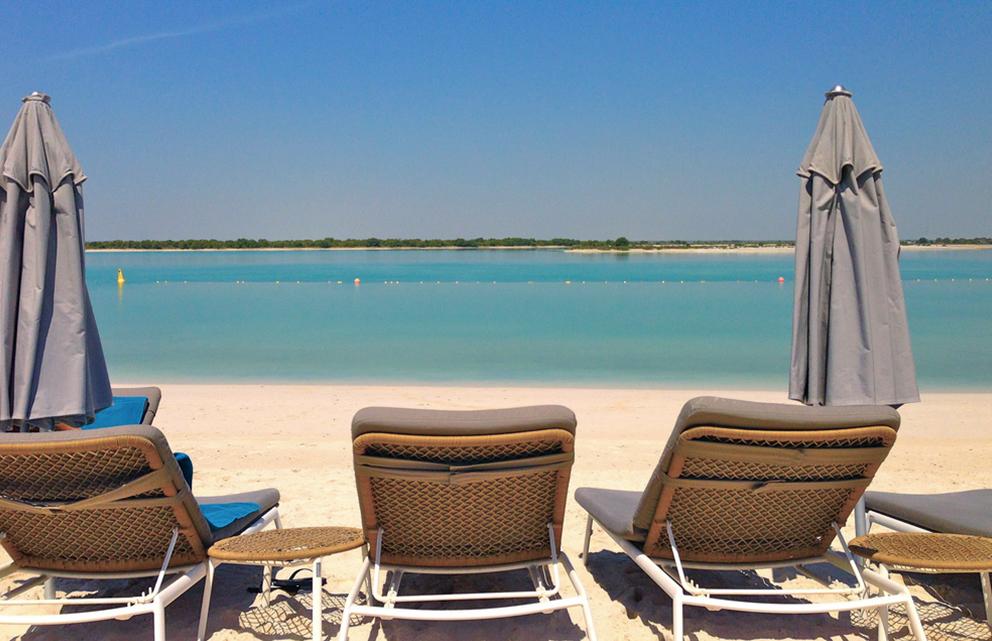 Yas Marina
The Yas Marina is every sailor's dream come true. It is located within the heart of the Yas Marina Circuit track and Yas Viceroy Abu Dhabi. The beautiful marina has 175 berths catering for boats from 8m to 150m, including boats which are available for charter and scenic cruises. There is also a wide range of restaurants and bars to keep you busy.
All these and much more await you at the Yas Viceroy in Abu Dhabi. Book your next holiday at this Hotel and be sure to bring home memories for a lifetime.
See more from UAE here. For deals with the best of inclusions, lowest prices, awesome customer support visit FABgetaways.